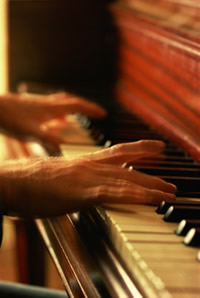 Newest Listings


Eliason School of Music in Portland, OR
Musician Training Center in Harrison, TN
Sharon Feury's School-Guitar in Roanoke, VA
Lisa's Music Studio in Battle Lake, MN
Legacy School of the Arts in Olathe, KS
ChildSong in Santa Monica, CA
Bracco Music Center in Valley Stream, NY
Stieber Martha in New York, NY
Giuliano's Music Center - Darien CT in Darien, CT
Blue Mood Music in Midlothian, VA
Seattle Music Teachers Association in Seattle, WA
Jack's Music in Conway, AR
Riley Wilson in Frisco, TX
Melody Music Studio in Elmwood Park, IL
The Rivers School Conservatory - Private Lessons-All Instruments in Weston, MA
From Our Blog:


Learn To Play The Flute

Many people want to pick up a new hobby, and playing a musical instrument may be just what you have in mind. When it comes to choosing a musical instrument, you may want to consider the flute. The flute is one of the most popular instruments to play. It has a nice romantic sound. It is also very lightweight and you can carry it around when you go. It is unlike many of the larger instruments... Continue Reading
Scott Musick
7145 S Mingo Road
Tulsa, OK
74133




(918) 748-1711

Reviews


By Channing Yan from Houston, TX, OK
Posted Feb 27, 2009

Dear Sir or Madame:
I am writing to let you know a great show is coming to Tulsa soon. Divine Performing Arts will be performing at Tulsa Performing Arts Center, Chapman Music Hall on March 18, 2009 at 7:00pm. Divine Performing Arts, a non-profit organization devoted to promote traditional Chinese culture, offers an exhilarating world-class production that celebrates the excellence and grandeur of classical Chinese dance and music.
Divine Performing Arts orchestra blends Eastern and Western music. Using Western orchestra's technique and the expressiveness for deep emotions of the classical Chinese instruments to create a new color of music. It has an interesting blend of East and West instruments – the Pipa (pear-shaped, plugged string instrument), Dizi (Chinese bamboo flute), Chinese Percussion, and Erhu (the two stringed Chinese violin) along with classical Western instruments. The end result is a perfect vehicle for expressing the wide variety and dramatic of the diverse and rich traditional Chinese culture.
Classical Chinese dance has a wide range of varieties and styles; some performances were very lifelike, while others had lingering charm. There is a saying about classical Chinese dance: "The movement stops but not the expression." It gives people space to recollect and savor what the dance is trying to convey. It is different from modern dance and Ballet, for their concepts, forms, and inner connotations are all different.
In 2008 Divine Performing Arts delighted a live audience of over 600,000 in more than 66 cities across 20 countries worldwide and graced many of the world's greatest stages, such as Radio City Musical Hall (New York) and Kodak Theater (Los Angeles) and Le Palais des Congres (Paris).

Weaving a wondrous story of heavenly realms, enchanting dreams, and the classic struggle between good and evil, the show's breathtaking pageantry evokes themes of virtue, compassion, and courage, which have lain at the heart of China's culture since antiquity. Story-based dances portray topics ranging from ancient tales of valor to modern-day epics. Following the tragic erosion of traditional Chinese culture under decades of communist rule, New York-based Divine Performing Arts endeavors to rediscover a lost artistic and cultural heritage.

Marvel at fresh new dances intermingled with old favorites, featuring a superb cast of dozens of leading dancers, singers, and musicians. You will be spellbound by the brilliant choreography, stunning costumes, and state-of-the-art dynamic backdrops. I am sure that the shows will savor an uplifting, enriching experience that has charmed and delighted people of all ages, Western and Asian alike.

For more information, please visit:
http://divineperformingarts.org/tulsa
You may also find a three-minute preview by linking to the following site:
http://www.divineshows.com/multimedia/video


Sincerely Yours,

Channing Yan


Share Your Review

Please note: all reviews are screened for spam and take 24-48 hours to be approved.