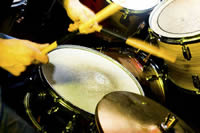 Musical Instrument Lessons at InstrumentLessons.org
Instrumet lessons can begin at absolutely any age, and you are never too old to pick up a new musical instrument, particularly if you know how to read music or have played an instrument before. Many people do not follow their ambition to learn to play an instrument because they do not think they have what it takes to learn how to play. Because you are never too old for instrument lessons, you can easily get started now and learn to play the instrument of your dreams. Younger students taking music lessons may be able to find the memory and dexterity easier, but you still have the advantage of time and dedication to take advantage of.

When it comes to instrument lessons, you can easily learn piano, guitar, woodwinds, violin, cello, drums and numerous other instruments as well. If you have an affinity for music and are interested in taking music lessons, it is never too late for you to get started. Music lessons are available from large schools and private instructors, so matter what you need, there are plenty of options for you to choose from.
Welcome New Companies:



Yamaha Music Academy



Voted the best music school in North Orange County, we specialize in children music lessons. Our group classes for beginners are authorized by the wor...



Fullerton, CA
Latest Reviews:



Bryant Guitar Studio in Bryant, AR
from gary mccallister
bryant guitar studio is closed...if you need guitar lessons call ROAN MUSIC 315-2600 OR 847-9150, LOCATED ON SERVICE ROAD. BETWEEN BENTON AND ALCOA.....Details
From Our Blog:
How To Become A Pianist
The piano is one of the most common musical instruments that people learn to play. Taking piano lessons is really fun. Even if you don't have a piano at home you can still take lessons. Some people even purchase a keyboard so that they can practice without having a big piano in their home. When you first get started, you will learn to play basic songs. Then you can start learning more in... Continue Reading
Welcome new companies!
Arc Audition Recording Center in San Jose, CA
Lake School of Music in Kennesaw, GA
Delaware Music School Inc in Milford, DE
Henson's Music Center in Ventura, CA
Frank & Camille's School of Music in Melville, NY
Quist Violins in Bellingham, WA
P M Music in Jackson, TN
Star of Indiana in Bloomington, IN
GMB Music-Guitar Studio in west columbia, sc
Rocky Mountain Music in Nephi, UT
Claudette Peterson in Paramus, NJ
Bethel College Academy-Perform in Newton, KS
Two Street Music in Eureka, CA
Music Factory in Traverse City, MI
Wittenberg University in Springfield, OH