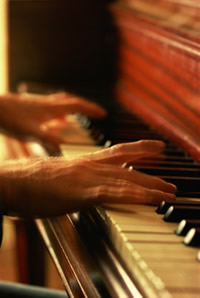 Musical Instrument Lessons at InstrumentLessons.org
Instrumet lessons can begin at absolutely any age, and you are never too old to pick up a new musical instrument, particularly if you know how to read music or have played an instrument before. Many people do not follow their ambition to learn to play an instrument because they do not think they have what it takes to learn how to play. Because you are never too old for instrument lessons, you can easily get started now and learn to play the instrument of your dreams. Younger students taking music lessons may be able to find the memory and dexterity easier, but you still have the advantage of time and dedication to take advantage of.

When it comes to instrument lessons, you can easily learn piano, guitar, woodwinds, violin, cello, drums and numerous other instruments as well. If you have an affinity for music and are interested in taking music lessons, it is never too late for you to get started. Music lessons are available from large schools and private instructors, so matter what you need, there are plenty of options for you to choose from.
Welcome New Companies:



Bloomsburg Prep School of Music



Lessons for children AND adults on strings, winds, piano and voice. Two string orchestras, childrens choir, student recitals, teachers recital, compet...



Bloomsburg, PA
Latest Reviews:



Hands On Music Academy LLC in Fort Collins, CO
from SL
I love Brad and Jan! They push you hard, and extend your limits to something you never thought possible. I miss my lessons there and would go back in ...Details
From Our Blog:
Start Playing The Saxophone
The saxophone is a great instrument to learn, and you will soon find that it is really fun. When you are successful at learning to play, you will even find a great sense of accomplishment. There are a few different types of sax instruments for you to choose from. While there are a few different types, it does not really matter which one you choose when you are first getting started. You can... Continue Reading
Welcome new companies!
Good Vibrations Band in New Hartford, NY
Brumley Music Studio in Enid, OK
Bass Styles Inc in Jersey City, NJ
Comtemporary Keyboardist in Valley Village, CA
Music Square in Oskaloosa, IA
Old World Village - Services, Village Music Piano Lessons in Westminster, CA
Megan Gilles Music Studio in Willmar, MN
Indian Springs ACAD of Music in Cincinnati, OH
Glenn Tilyou Music Studio in Niagara Falls, NY
Star Sounds-Professional Vocal Training for Children & Adults in Salt Lake City, UT
Nick's Piano Showroom in Venice, FL
Alt's Village Music Store in Saint Louis, MO
Art of Music in Newport News, VA
Jack Mears Guitar in Newbury, MA
John W. Finnell Jr. in Chester, VA