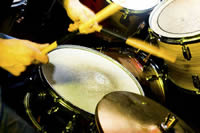 Musical Instrument Lessons at InstrumentLessons.org
Instrumet lessons can begin at absolutely any age, and you are never too old to pick up a new musical instrument, particularly if you know how to read music or have played an instrument before. Many people do not follow their ambition to learn to play an instrument because they do not think they have what it takes to learn how to play. Because you are never too old for instrument lessons, you can easily get started now and learn to play the instrument of your dreams. Younger students taking music lessons may be able to find the memory and dexterity easier, but you still have the advantage of time and dedication to take advantage of.

When it comes to instrument lessons, you can easily learn piano, guitar, woodwinds, violin, cello, drums and numerous other instruments as well. If you have an affinity for music and are interested in taking music lessons, it is never too late for you to get started. Music lessons are available from large schools and private instructors, so matter what you need, there are plenty of options for you to choose from.
Welcome New Companies:



West Valley Music Center



The West Valley Music Center is THE place for all your music needs. We offer: * Private music lessons with the highest caliber teachers * ...



West Hills, CA
Latest Reviews:



Ro-An Music Center Inc in Benton, AR
from john d
best place to take lessons, from gary mccallister, learn more from him , than any other place, and i have tried them all....thanks a million, i am no...Details
From Our Blog:
A Guide to Playing the Violin
Many people have a desire to learn to play the violin. What you may not know is that it is really one of the more difficult instruments to learn how to play. It is also very rewarding once you get used to the techniques that you will be using. There are a lot of things that you will need to learn in the beginning, starting with the correct way to hold the instrument. You will also have to... Continue Reading
Welcome new companies!
Pointe Of Grace Christian & Performing Arts Academy in Yorba Linda, CA
Flamenco Guitar Instruction in Seattle, WA
International School of Music in Cicero, IL
Portsmouth Center for Yoga in Portsmouth, NH
Monster Music in New Smyrna Beach, FL
Community School of Music in Kennesaw, GA
Joel Perry - KRNY Area in Kearny, NJ
MLC Branch in Philadelphia, PA
Academy 2000 in Bolingbrook, IL
Bass Lessons in Pasadena and San Marino in San Marino, CA
Cross To Victory Performing Arts Program in Fayetteville, NC
West Coast Music Academy in Santa Clarita, CA
Jack Marshall in Kennett Square, PA
Bloom School of Jazz in Chicago, IL
Guitar Lessons in Miami, FL