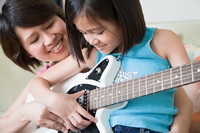 Musical Instrument Lessons at InstrumentLessons.org
Instrumet lessons can begin at absolutely any age, and you are never too old to pick up a new musical instrument, particularly if you know how to read music or have played an instrument before. Many people do not follow their ambition to learn to play an instrument because they do not think they have what it takes to learn how to play. Because you are never too old for instrument lessons, you can easily get started now and learn to play the instrument of your dreams. Younger students taking music lessons may be able to find the memory and dexterity easier, but you still have the advantage of time and dedication to take advantage of.

When it comes to instrument lessons, you can easily learn piano, guitar, woodwinds, violin, cello, drums and numerous other instruments as well. If you have an affinity for music and are interested in taking music lessons, it is never too late for you to get started. Music lessons are available from large schools and private instructors, so matter what you need, there are plenty of options for you to choose from.
Welcome New Companies:



Core Productions



Core Productions wants you! If you are striving to learn more about music and drama for performing or fun Check out Core Productions. The R&H Studi...



Williamsburg, VA
Latest Reviews:



John Molloy Drum Instruction in Fairfax, CA
from Rick Stubblefield Vaughn
I am looking for drummer John Molloy who lived in the Washington DC area. Rick Vaughn who worked at Chuck Levin's Music Center in Maryland. I am still...Details
From Our Blog:
Learning To Play The Clarinet
A Guide to Playing the Clarinet Many people choose the clarinet when they want to learn to play a new musical instrument. It is a woodwind instrument and it is one of the most popular instruments out there. Many people play it in marching bands and other types of bands. One common reason that people choose this instrument is because it is one of the easier instruments to learn to play. It... Continue Reading
Welcome new companies!
Clavier Werke School of Music in Austin, TX
Rick N Debbie's Music Time in Largo, FL
Clear Lake Music Lessons in Houston, TX
James D Craig in Whitehall, PA
Community Music School in Upperville, VA
Fitchett Guitar School in Redondo Beach, CA
Richard Donohue Studio of Music in Cromwell, ct
Merle Valdez Piano Studio in Newport Beach, CA
H Charles Center for the Arts in Houston, TX
Greensboro Music Teachers in Greensboro, NC
At Home Guitar Instruction by Franky Novello in Hopatcong, NJ
Route 1 Guitars LLC in Milford, CT
Bjorklund Studios in Milwaukee, WI
My Music Store in Minneapolis, MN
Anita Ehrler's Dance in Park Ridge, NJ