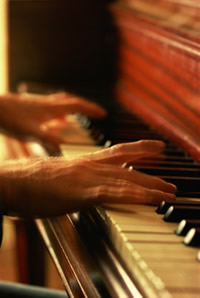 Musical Instrument Lessons at InstrumentLessons.org
Instrumet lessons can begin at absolutely any age, and you are never too old to pick up a new musical instrument, particularly if you know how to read music or have played an instrument before. Many people do not follow their ambition to learn to play an instrument because they do not think they have what it takes to learn how to play. Because you are never too old for instrument lessons, you can easily get started now and learn to play the instrument of your dreams. Younger students taking music lessons may be able to find the memory and dexterity easier, but you still have the advantage of time and dedication to take advantage of.

When it comes to instrument lessons, you can easily learn piano, guitar, woodwinds, violin, cello, drums and numerous other instruments as well. If you have an affinity for music and are interested in taking music lessons, it is never too late for you to get started. Music lessons are available from large schools and private instructors, so matter what you need, there are plenty of options for you to choose from.
Welcome New Companies:



Youniversity of Music and Arts



Located within easy walking distance of Bethlehem's booming arts district, Youniversity of Music and Arts offers high-quality music instruction for st...



Bethlehem, PA
Latest Reviews:



LearnGuitarnyc.com in Ozone Park, NY
from Jackie R
I am so happy to have experienced John as my teacher. He has taught me a lot and I am more motivated than ever to excel with my guitar playing. He i...Details
From Our Blog:
Starting Out With An Electric Guitar
A Guide to Playing an Electric Guitar If you have experience playing the guitar, you may want to consider learning how to play an electric guitar. This is a bit different than the acoustic guitar, but it is a lot of fun learning how to play. It is also a great way to improve your guitar playing skills. You will find that there are many similarities with the acoustic and electric guitars,... Continue Reading
Welcome new companies!
Seton Hill University - Music Department & Concert Info in Greensburg, PA
Creative EJ in Huntersville, NC
Michael Miller Guitar Repair in Colorado Springs, CO
Music Center of Deerfield in Deerfield, IL
Kids Christian Music Center in Birmingham, AL
Face the Music in Stone Ridge, NY
Plateau Music Center in Issaquah, WA
Evergreen Music Conservatory in North Hollywood, CA
Jerry Luck Studios in Eastpointe, MI
Mode 4 Music Studios in Hyannis, MA
Texas Academy of Music, Inc. in Beaumont, Tx
Kindermusik With Mrs Lisa in Colorado Springs, CO
Gymboree in Anaheim, CA
GMC Music in Conroe, TX
Adams Piano Studio in Oklahoma City, OK