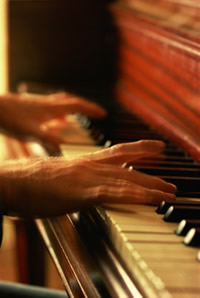 Musical Instrument Lessons at InstrumentLessons.org
Instrumet lessons can begin at absolutely any age, and you are never too old to pick up a new musical instrument, particularly if you know how to read music or have played an instrument before. Many people do not follow their ambition to learn to play an instrument because they do not think they have what it takes to learn how to play. Because you are never too old for instrument lessons, you can easily get started now and learn to play the instrument of your dreams. Younger students taking music lessons may be able to find the memory and dexterity easier, but you still have the advantage of time and dedication to take advantage of.

When it comes to instrument lessons, you can easily learn piano, guitar, woodwinds, violin, cello, drums and numerous other instruments as well. If you have an affinity for music and are interested in taking music lessons, it is never too late for you to get started. Music lessons are available from large schools and private instructors, so matter what you need, there are plenty of options for you to choose from.
Welcome New Companies:



Heartland Guitar School



Run by a certified guitar teacher and tutor who is a professional performing jazz and classical guitarist. We teach rock, jazz, classical, folk, acous...



North Riverside, IL
Latest Reviews:



Malvern Music CO in Malvern, AR
from dale bourland
yea i have used malvern music co be4 i sure do miss it but i know it takes a lot of money to stay open its hard to jam buy ur self when theres know bo...Details
From Our Blog:
Learning To Play The Clarinet
A Guide to Playing the Clarinet Many people choose the clarinet when they want to learn to play a new musical instrument. It is a woodwind instrument and it is one of the most popular instruments out there. Many people play it in marching bands and other types of bands. One common reason that people choose this instrument is because it is one of the easier instruments to learn to play. It... Continue Reading
Welcome new companies!
Kyle Barker Band in Modesto, CA
Richard Donohue Studio of Music in Cromwell, ct
MusiConservatory in North Manchester, IN
Susan Campos in Pomona, CA
Laurie Jircitano's Music STD in Niagara Falls, NY
Miller Piano Studio in Valencia, CA
Piano Passion in Charlotte, NC
Alida Vazquez Pianist Composer in New York, NY
Rocketeria in Olney, MD
Braswell Music in Suwanee, GA
Pajarito Yamaha Music School in Albuquerque, NM
Kindermusik Jane Smolens in Boulder, CO
Kessler & Sons Music in Las Vegas, NV
MT Clemens Art Consortium in Mount Clemens, MI
Chuck's Music in Lexington, KY