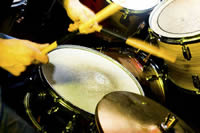 Musical Instrument Lessons at InstrumentLessons.org
Instrumet lessons can begin at absolutely any age, and you are never too old to pick up a new musical instrument, particularly if you know how to read music or have played an instrument before. Many people do not follow their ambition to learn to play an instrument because they do not think they have what it takes to learn how to play. Because you are never too old for instrument lessons, you can easily get started now and learn to play the instrument of your dreams. Younger students taking music lessons may be able to find the memory and dexterity easier, but you still have the advantage of time and dedication to take advantage of.

When it comes to instrument lessons, you can easily learn piano, guitar, woodwinds, violin, cello, drums and numerous other instruments as well. If you have an affinity for music and are interested in taking music lessons, it is never too late for you to get started. Music lessons are available from large schools and private instructors, so matter what you need, there are plenty of options for you to choose from.
Welcome New Companies:



Heartland Guitar School



Run by a certified guitar teacher and tutor who is a professional performing jazz and classical guitarist. We teach rock, jazz, classical, folk, acous...



North Riverside, IL
Latest Reviews:



Rick Spidel Professional Piano in Simi Valley, CA
from Leland P.
Mr.Spidel was my music teacher from 7th Grade to 11th Grade. He helped my little sister, my little brother, and myself all with individual attention. ...Details
From Our Blog:
Mastering The Acoustic Guitar
If you are interested in learning how to play an acoustic guitar, it is important to learn the basics from the get go. You will want to follow some basic instructions that will help you to be a better player. It will also save you a lot of time and frustration in the future as you become a better player. You will first start by learning how to play a few chords, and then you will be able to... Continue Reading
Welcome new companies!
Piano Mate CO in Mobile, AL
Gadsby's Music CO in Salinas, CA
Quick Start Music Learning in Aurora, CO
Casey Peterson Classical in Kennewick, WA
G-Mel Studios in Roanoke, VA
Guitar Lessons in Nashville, TN
Avenue Piano Studio in San Francisco, CA
Easy Music School - Temecula in Temecula, CA
Hershey Percussion in York, PA
Patricia Hyde-Thomas Classical in El Cerrito, CA
Marcy Nicholas in Round Rock, TX
La Habra Muisc Center in la habra, ca
Kindermusik in Prestonsburg, KY
Overbeek Electronics & Music in Bemidji, MN
Jeff Poole Guitar Instruction in Columbus, OH