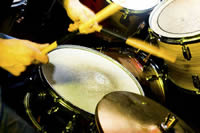 Musical Instrument Lessons at InstrumentLessons.org
Instrumet lessons can begin at absolutely any age, and you are never too old to pick up a new musical instrument, particularly if you know how to read music or have played an instrument before. Many people do not follow their ambition to learn to play an instrument because they do not think they have what it takes to learn how to play. Because you are never too old for instrument lessons, you can easily get started now and learn to play the instrument of your dreams. Younger students taking music lessons may be able to find the memory and dexterity easier, but you still have the advantage of time and dedication to take advantage of.

When it comes to instrument lessons, you can easily learn piano, guitar, woodwinds, violin, cello, drums and numerous other instruments as well. If you have an affinity for music and are interested in taking music lessons, it is never too late for you to get started. Music lessons are available from large schools and private instructors, so matter what you need, there are plenty of options for you to choose from.
Welcome New Companies:



Maria Wilson Studio of Guitar and Drums



Maria Wilson Studio of Guitar and Drums has been in tyhe fHarrisburg-Hershey area for over 20 years!Maria has been teaching both private and group ins...



Hummelstown, PA
Latest Reviews:



Musicart Studio in Foster City, CA
from Lily Bai
I didn't expect to have a creative and interesting piano teacher for my little boy until we see Paul. He is really great, very intelligent and very ki...Details
From Our Blog:
Mastering The Acoustic Guitar
If you are interested in learning how to play an acoustic guitar, it is important to learn the basics from the get go. You will want to follow some basic instructions that will help you to be a better player. It will also save you a lot of time and frustration in the future as you become a better player. You will first start by learning how to play a few chords, and then you will be able to... Continue Reading
Welcome new companies!
Community School of Music in Winter Park, FL
Paganini International Institute of Music in Newark, NJ
Bradford's Piano & Organ in Milwaukee, WI
Bright's Music School in Hendersonville, NC
Black Mountain Side Music School in Henderson, NV
Alhambra School of Music in Alhambra, CA
Silva Stars in Metairie, LA
Houston School of Music in Houston, TX
Craig Alden Dell Music Studios in Seabeck, WA
Deluxe Music in Dodge City, KS
Music Together With Susan in Mount Prospect, IL
Gib's Guitar Secrets in Van Nuys, CA
Hoff Barthelson Music School in Scarsdale, NY
Arizona Music Academy in Tempe, AZ
Bravo School of Music in Pasadena, TX