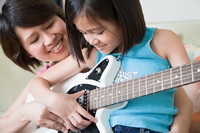 Musical Instrument Lessons at InstrumentLessons.org
Instrumet lessons can begin at absolutely any age, and you are never too old to pick up a new musical instrument, particularly if you know how to read music or have played an instrument before. Many people do not follow their ambition to learn to play an instrument because they do not think they have what it takes to learn how to play. Because you are never too old for instrument lessons, you can easily get started now and learn to play the instrument of your dreams. Younger students taking music lessons may be able to find the memory and dexterity easier, but you still have the advantage of time and dedication to take advantage of.

When it comes to instrument lessons, you can easily learn piano, guitar, woodwinds, violin, cello, drums and numerous other instruments as well. If you have an affinity for music and are interested in taking music lessons, it is never too late for you to get started. Music lessons are available from large schools and private instructors, so matter what you need, there are plenty of options for you to choose from.
Welcome New Companies:



Keith Connor - Violin lessons



I teach violin lessons to children and adults of all ages in the sacramento area. Violin lessons are given at the Pease Conservatory in down town Sacr...



Sacramento, CA
Latest Reviews:



Hands On Music Academy LLC in Fort Collins, CO
from SL
I love Brad and Jan! They push you hard, and extend your limits to something you never thought possible. I miss my lessons there and would go back in ...Details
From Our Blog:
A Guide to Playing the Violin
Many people have a desire to learn to play the violin. What you may not know is that it is really one of the more difficult instruments to learn how to play. It is also very rewarding once you get used to the techniques that you will be using. There are a lot of things that you will need to learn in the beginning, starting with the correct way to hold the instrument. You will also have to... Continue Reading
Welcome new companies!
Martha A Frenke in Pewee Valley, KY
Downham's Music in Anderson, IN
Songcycles Music Studio in Green Bay, WI
A Wonderful World of Music in Elk Grove, CA
Music & Arts in Peabody, MA
Blue Bear School of American in San Francisco, CA
RUIZ Viviana in Miami, FL
CLARK-JEREZ ELIZABETH in Saugerties, NY
Frankie Spetich Orchestra in Barberton, OH
Daynes Music in Midvale, UT
Adam R Jenkins Saxophone Instrument in Davis, CA
Music With Jeanine in Petaluma, CA
Buddy Roger's Music in Cincinnati, OH
Edsac Music in Cranston, RI
Sandi Palmquist in Cape Elizabeth, ME