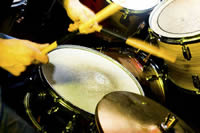 Musical Instrument Lessons at InstrumentLessons.org
Instrumet lessons can begin at absolutely any age, and you are never too old to pick up a new musical instrument, particularly if you know how to read music or have played an instrument before. Many people do not follow their ambition to learn to play an instrument because they do not think they have what it takes to learn how to play. Because you are never too old for instrument lessons, you can easily get started now and learn to play the instrument of your dreams. Younger students taking music lessons may be able to find the memory and dexterity easier, but you still have the advantage of time and dedication to take advantage of.

When it comes to instrument lessons, you can easily learn piano, guitar, woodwinds, violin, cello, drums and numerous other instruments as well. If you have an affinity for music and are interested in taking music lessons, it is never too late for you to get started. Music lessons are available from large schools and private instructors, so matter what you need, there are plenty of options for you to choose from.
Welcome New Companies:



Harrison School of Music



Voted as the 2017 winner of "Best Music Lessons for Kids" by readers of Westchester Family Magazine, we offer piano, guitar, drums, voice, violin, sax...



Harrison, NY
Latest Reviews:



Marathon Music Center in Boynton Beach, FL
from Matt V
Marathon Music Center is a nice, small, family owned business worthy of support. The music teachers are very good instructors and fine, decent, and r...Details
From Our Blog:
All About Playing The Trombone
A Guide to Playing the Trombone Many people have found great pleasure in learning to play the trombone. The trombone is one of the wind instruments that is also in the brass family. You blow into the instrument to create the desirable sound that you are looking for. You use a slide to create different pitches of the sound that you are making. It is very similar to a trumpet, but also has a... Continue Reading
Welcome new companies!
Moss Charles K Piano Studio in Sumter, SC
C & C Music Center in Hazleton, PA
Music Emporium in Charlottesville, VA
Academy Of Music Art & Education LLC in Wentzville, MO
Chris Music Headquarters Inc in New Hyde Park, NY
Castle Accordion in Minneapolis, MN
Hammons Jean in Huntsville, AL
Chords Piano Studio in Statesboro, GA
Instituto Canzion in Modesto, CA
Music School in Newington, CT
ENNS Music Center in Wichita, KS
Adonai Institute of Fine Arts in Hialeah, FL
Diller Quaile in New York, NY
Durthaler Organ & Piano in Columbus, OH
Kindermusik Predlude in Phoenix, AZ