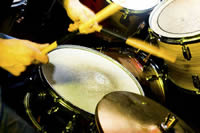 Musical Instrument Lessons at InstrumentLessons.org
Instrumet lessons can begin at absolutely any age, and you are never too old to pick up a new musical instrument, particularly if you know how to read music or have played an instrument before. Many people do not follow their ambition to learn to play an instrument because they do not think they have what it takes to learn how to play. Because you are never too old for instrument lessons, you can easily get started now and learn to play the instrument of your dreams. Younger students taking music lessons may be able to find the memory and dexterity easier, but you still have the advantage of time and dedication to take advantage of.

When it comes to instrument lessons, you can easily learn piano, guitar, woodwinds, violin, cello, drums and numerous other instruments as well. If you have an affinity for music and are interested in taking music lessons, it is never too late for you to get started. Music lessons are available from large schools and private instructors, so matter what you need, there are plenty of options for you to choose from.
Welcome New Companies:



Piano By Julie



Private Piano Lessons for ages 5 and up. Recitals and Performance opportunities throughout the year. Friendly teachers, reasonable rates....



Woodland Hills, CA
Latest Reviews:



John Molloy Drum Instruction in Fairfax, CA
from Rick Stubblefield Vaughn
I am looking for drummer John Molloy who lived in the Washington DC area. Rick Vaughn who worked at Chuck Levin's Music Center in Maryland. I am still...Details
From Our Blog:
How To Become A Pianist
The piano is one of the most common musical instruments that people learn to play. Taking piano lessons is really fun. Even if you don't have a piano at home you can still take lessons. Some people even purchase a keyboard so that they can practice without having a big piano in their home. When you first get started, you will learn to play basic songs. Then you can start learning more in... Continue Reading
Welcome new companies!
Northern Ohio Youth Orchestras in Oberlin, OH
Piano Lessons in Your Home in Clearwater, FL
Applause Piano Conservatory in Wichita Falls, TX
Airport Plaza Shopping Center - Stores and Offices, Absolute Guitar & Music in Keyport, NJ
Justin Hill Ministries in Bloomfield, IA
Central Texas String Academy in Waco, TX
Banjo News Letter in Annapolis, MD
M C Drums in Middlefield, OH
Reed Shoppe in Elmhurst, IL
Leopold Mozart Academy in Newtown, PA
Spicerstudios.Com in Onalaska, WI
Claudette Peterson in Oradell, NJ
Best Guitar Lessons & Repair in Phoenix, AZ
Carpenter's World of Music in Hagerstown, MD
Guitar Gallery in Paradise Valley, AZ