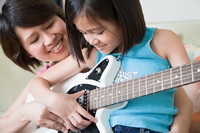 Musical Instrument Lessons at InstrumentLessons.org
Instrumet lessons can begin at absolutely any age, and you are never too old to pick up a new musical instrument, particularly if you know how to read music or have played an instrument before. Many people do not follow their ambition to learn to play an instrument because they do not think they have what it takes to learn how to play. Because you are never too old for instrument lessons, you can easily get started now and learn to play the instrument of your dreams. Younger students taking music lessons may be able to find the memory and dexterity easier, but you still have the advantage of time and dedication to take advantage of.

When it comes to instrument lessons, you can easily learn piano, guitar, woodwinds, violin, cello, drums and numerous other instruments as well. If you have an affinity for music and are interested in taking music lessons, it is never too late for you to get started. Music lessons are available from large schools and private instructors, so matter what you need, there are plenty of options for you to choose from.
Welcome New Companies:



Vahl Piano Studio



The Vahl Piano Studio is conveniently located by Highway 169 and the 63rd Avenue exit in Maple Grove, Minnesota, near Eagle Lake and the Arbor Lakes s...



Maple Grove, MN
Latest Reviews:



Guitars Plus in Southbury, CT
from Tony G
The last time I saw Joe Monde was over twenty years ago when I began studying jazz guitar under his guidance. Today I play in a jazz quintet, and jus...Details
From Our Blog:
Learn To Play The Flute
Many people want to pick up a new hobby, and playing a musical instrument may be just what you have in mind. When it comes to choosing a musical instrument, you may want to consider the flute. The flute is one of the most popular instruments to play. It has a nice romantic sound. It is also very lightweight and you can carry it around when you go. It is unlike many of the larger instruments... Continue Reading
Welcome new companies!
Music & Arts Center in Burke, VA
Monte Paul Music Studio in Babson Park, MA
Guitarwork in Novato, CA
Guitar Foundation in Iowa City, IA
World Rhythm Center in New York, NY
S & D Music Studio in Woods Cross, UT
Meyer Music CO in Kansas City, MO
Omo Arrah Drum, Dance, Storytelling Ensemble in Indianapolis, IN
North Cleveland Church of God in Cleveland, TN
Ballard Music Studio in Muncie, IN
Creative Music Learning Center in Spokane, WA
Scott Wellers Drum Studio in Eagle river, AK
Sonneman Studio Piano & Voice in Harper Woods, MI
Sheila Vayenas in Rockford, IL
Zane Casey Music Studio in Pasco, WA