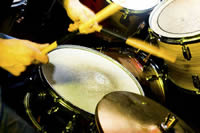 Musical Instrument Lessons at InstrumentLessons.org
Instrumet lessons can begin at absolutely any age, and you are never too old to pick up a new musical instrument, particularly if you know how to read music or have played an instrument before. Many people do not follow their ambition to learn to play an instrument because they do not think they have what it takes to learn how to play. Because you are never too old for instrument lessons, you can easily get started now and learn to play the instrument of your dreams. Younger students taking music lessons may be able to find the memory and dexterity easier, but you still have the advantage of time and dedication to take advantage of.

When it comes to instrument lessons, you can easily learn piano, guitar, woodwinds, violin, cello, drums and numerous other instruments as well. If you have an affinity for music and are interested in taking music lessons, it is never too late for you to get started. Music lessons are available from large schools and private instructors, so matter what you need, there are plenty of options for you to choose from.
Welcome New Companies:



Cinco Ranch Conservatory of Music



Cinco Ranch Conservatory of Music is, we believe, the fastest growing provider of private music lessons in Katy and West Houston. Our instructors have...



Katy, TX
Latest Reviews:



Spiers Music Center in McComb, MS
from Jerry Terrell jr.
I have a trumpet that I bought before y'all went ou of bussiness and I would love to find y'all to get it because my parents worked hard to pay on it ...Details
From Our Blog:
Learning To Play The Clarinet
A Guide to Playing the Clarinet Many people choose the clarinet when they want to learn to play a new musical instrument. It is a woodwind instrument and it is one of the most popular instruments out there. Many people play it in marching bands and other types of bands. One common reason that people choose this instrument is because it is one of the easier instruments to learn to play. It... Continue Reading
Welcome new companies!
Mark's Guitar & Piano Studio in Vernon Hills, IL
Suzuki Violin Studio of Laura Wright in New Haven, CT
Kim Wood Sandusky Vocal in Nashville, TN
Guitar Bar in Hoboken, NJ
Ken Stanton Music in Snellville, GA
Crestmont Conservatory in San Mateo, CA
Severinos Piano Lessons Plus in Wexford, PA
Joanne Tyne Music School in Hightstown, NJ
Alvarez Studio in Oxnard, CA
Wheaton Yamaha Music School in Wheaton, IL
Hudson Physical Therapy in Ridgewood, NJ
American Music Lessons in Pawtucket, RI
Priddy Guitar Academy in Millersville, MD
Steininger Guitar & Music in Lawrence, MA
Bennett's Music Studio in Missoula, MT