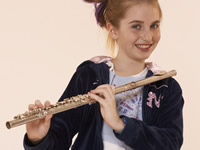 Newest Listings


Union Music Inc in Worcester, MA
Reisterstown Music Center LLC in Reisterstown, MD
Piano And Music Co. in Los Angeles, CA
Creative Guitar Teaching in Dallas, TX
Universal Music CO in Denver, CO
Gymboree Play and Music in Redlands, CA
Mobile Music in Canandaigua, NY
Orange Park School Of Music in Orange Park, FL
Lou Ann J Murray Day Care in Rio Rancho, NM
Prestige Music Academy in Phoenix, AZ
Music Store in McAlester, OK
Janet & Judy Productions in Glendale, CA
Western Reserve Piano & Music in Solon, OH
The Player's Bench Music Store in Crystal Lake, IL
Grand Staff Studios in Orem, UT
From Our Blog:


Learn To Play The Flute

Many people want to pick up a new hobby, and playing a musical instrument may be just what you have in mind. When it comes to choosing a musical instrument, you may want to consider the flute. The flute is one of the most popular instruments to play. It has a nice romantic sound. It is also very lightweight and you can carry it around when you go. It is unlike many of the larger instruments... Continue Reading
Chuck Day Music Center
48 N Saint Joseph Avenue
Niles, MI
49120




(269) 683-8113

Reviews


By Beverly S from Niles, MI
Posted Jul 3, 2015

My husband took lessons from Chuck Day when he was about 12 years old. Chuck was a very good person, as well as his wife. I dealt with them both around holidays and birthdays, my husband's birthday. They were always very well informed as to what my husband used or wanted. I don't agree with 'anint saying from Niles'. I can't see her cheating anyone out of anything. God bless them both. Rest in peace, my dear friends. My husband is in heaven with you now and I'm sure you are all playing beautiful music together!


By Kay M from Eureka, CA
Posted May 27, 2013

Chuck Day Music Center and all the owners, Chuck & Louise Day and their two daughters, Linda and Cheryl were all wonderful, lovely Christian people. They were ALL excellent music teachers and shared their love of music and their love of the Lord with all of their students and customers.
Linda gave her heart and soul to her grandchildren and they were the reason she eventually literally dropped dead in the music store on 5/28/09, about 4 hours after she was told by authorities that they could do nothing about her ex-daughter-in-law destroying her home that she had allowed her and the grandchildren to live in free of charge. If, as the person above says, she needed mental help, it would have only be due to the on-going and continual harrassment of her grandchildren and their ec-con mother, who spent almost 3 years in prison for child abuse.
Rest in peace Mr. & Mrs. Day and Linda Jaroch. The world will never be the same without you all.


By JF WESTONE from NILES, MI
Posted Aug 18, 2009

Chuck Day was an excellent teacher and went well above his duty, Many memories jamming with him after class . When he lost his eye sight linda was forced to step it up and teach. She was not that fluid with the material but excellent in the ability to teach how to read music , leasons were fun and she helped me bring out the inner musician. I just read that she has passed and the store is up for sale.This school was the last of its kind in the area . I will miss them. Chuck was the best musical influence in my life and Linda followed thru when he could not. I was unable to let them hear some of my home recordings in time , but let them be a lasting memorie of what this school stood for. To any of lindas students , remember practice and things will come in time.


By Annon from Niles, MI
Posted May 29, 2009

Linda was an excellent teacher ! She taught my son and daughter both.She was very caring , and concerned, and extremely knowlegeable about any instrument. She went far beyond what many teachers do. She was a great lady who passed away yesterday 5/28/09. We will miss her !


By Anint Saying from niles, MI
Posted May 6, 2009

For one thing she's old and dont know shit i wouldn't send a cockroach to do lessens there . i did rent a house from her in 2006 and she cheated me out of thousands of dollars the house had black mold and and was so out of date like her . she tryed to tell me to get out but i asked her if she new landlord laws in m ichigan and she gave me more time after my lawyer theatend to sue her for all she is worth . she wond up kicking her own grand kids out here recently . and i think that she is out of her mind she needs to to be admittted into a facilty ware she can get help .

Share Your Review

Please note: all reviews are screened for spam and take 24-48 hours to be approved.