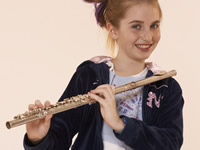 Musical Instrument Lessons at InstrumentLessons.org
Instrumet lessons can begin at absolutely any age, and you are never too old to pick up a new musical instrument, particularly if you know how to read music or have played an instrument before. Many people do not follow their ambition to learn to play an instrument because they do not think they have what it takes to learn how to play. Because you are never too old for instrument lessons, you can easily get started now and learn to play the instrument of your dreams. Younger students taking music lessons may be able to find the memory and dexterity easier, but you still have the advantage of time and dedication to take advantage of.

When it comes to instrument lessons, you can easily learn piano, guitar, woodwinds, violin, cello, drums and numerous other instruments as well. If you have an affinity for music and are interested in taking music lessons, it is never too late for you to get started. Music lessons are available from large schools and private instructors, so matter what you need, there are plenty of options for you to choose from.
Welcome New Companies:



Adam R Sweet



I have a certificate in violin and viola from the New England Conservatory of Music (1980), and a Bachelor's in Music. I have been teaching both priv...



South Hadley, MA
Latest Reviews:



Marjorie Donahue Piano Studio in Akron, OH
from Holland B
One of the best teachers around. I took lessons from her when I was 5 years old, up until I was a teen. I couldn't have asked for a better teacher. Sh...Details
From Our Blog:
How To Become A Pianist
The piano is one of the most common musical instruments that people learn to play. Taking piano lessons is really fun. Even if you don't have a piano at home you can still take lessons. Some people even purchase a keyboard so that they can practice without having a big piano in their home. When you first get started, you will learn to play basic songs. Then you can start learning more in... Continue Reading
Welcome new companies!
USA Music School in Manalapan, NJ
Gordon's String Music in Tallahassee, FL
Multicultural Performing Arts in Norfolk, VA
Michelle Tuesday Music School in Gahanna, Oh
Logan Studios LLC in Round Lake, NY
Kindermusik-Heartsong in Jacksonville Beach, FL
Salome Sandoval McNutt in Quincy, MA
Piano Lessons by Anton & Julia in Tarzana, CA
Voice Studio of John J. O'Grady in Naperville, IL
C Major Guitars at Rockin in Wichita, KS
Sound of Strings Music School in Duluth, MN
Kindermusic in Encinitas, CA
School of Fine Arts in Decatur, AL
Piano by Jessica in Highland, MI
A-Fred Gillett Music in Costa Mesa, CA