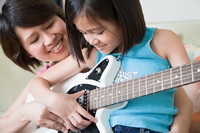 Musical Instrument Lessons at InstrumentLessons.org
Instrumet lessons can begin at absolutely any age, and you are never too old to pick up a new musical instrument, particularly if you know how to read music or have played an instrument before. Many people do not follow their ambition to learn to play an instrument because they do not think they have what it takes to learn how to play. Because you are never too old for instrument lessons, you can easily get started now and learn to play the instrument of your dreams. Younger students taking music lessons may be able to find the memory and dexterity easier, but you still have the advantage of time and dedication to take advantage of.

When it comes to instrument lessons, you can easily learn piano, guitar, woodwinds, violin, cello, drums and numerous other instruments as well. If you have an affinity for music and are interested in taking music lessons, it is never too late for you to get started. Music lessons are available from large schools and private instructors, so matter what you need, there are plenty of options for you to choose from.
Welcome New Companies:



Matthew Ocone Guitar Studio



Matthew Ocone Guitar Studio provides private guitar lessons with a professional performer and teacher. Matthew Ocone has a diploma from the Eastman Sc...



Spencer, NY
Latest Reviews:



Bellare School of Music Dance in Coeur D Alene, ID
from Sammi
I'm so sad that this studio is closing...I will miss all of the girls and the fun we had together, but most of all our teachers. The three sisters we...Details
From Our Blog:
How To Become A Pianist
The piano is one of the most common musical instruments that people learn to play. Taking piano lessons is really fun. Even if you don't have a piano at home you can still take lessons. Some people even purchase a keyboard so that they can practice without having a big piano in their home. When you first get started, you will learn to play basic songs. Then you can start learning more in... Continue Reading
Welcome new companies!
Making Musical Melodies in Ocala, FL
K C Music Inc in Princeton, NJ
Gorny Guitar in Chicago, IL
Berkshire Music School Inc in Pittsfield, MA
Pipestone Music Institute in Twisp, WA
Guitar Villa in Bethlehem, PA
Forte Inc in Wayne, PA
Music Together-No Westchester in Montrose, NY
Piano Central Music Studios in Greenville, SC
Northeast Kansas Music Teacher in Topeka, KS
Charisma Studio in Springville, UT
Star Sounds-Professional Vocal Training for Children & Adults in Salt Lake City, UT
Music Workshop in Philadelphia, PA
Children's Yamaha Music School in Saint Paul, MN
Frank & Camille's Keyboard in Valley Stream, NY