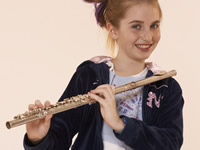 Musical Instrument Lessons at InstrumentLessons.org
Instrumet lessons can begin at absolutely any age, and you are never too old to pick up a new musical instrument, particularly if you know how to read music or have played an instrument before. Many people do not follow their ambition to learn to play an instrument because they do not think they have what it takes to learn how to play. Because you are never too old for instrument lessons, you can easily get started now and learn to play the instrument of your dreams. Younger students taking music lessons may be able to find the memory and dexterity easier, but you still have the advantage of time and dedication to take advantage of.

When it comes to instrument lessons, you can easily learn piano, guitar, woodwinds, violin, cello, drums and numerous other instruments as well. If you have an affinity for music and are interested in taking music lessons, it is never too late for you to get started. Music lessons are available from large schools and private instructors, so matter what you need, there are plenty of options for you to choose from.
Welcome New Companies:



Snare Necessities



Snare Necessities is located on Merritt Island, FL. and specializes in teaching private drum lessons including drum set (all styles), mallet instrumen...



Merritt Island, FL
Latest Reviews:



Skip Green Studios in Lombard, IL
from Stacey W
Skip Green and Danny Mrowiniski were the best teachers to ever come my way. They turned what was once a shy little red-haired teen in the 70's into ...Details
From Our Blog:
Learn To Play The Flute
Many people want to pick up a new hobby, and playing a musical instrument may be just what you have in mind. When it comes to choosing a musical instrument, you may want to consider the flute. The flute is one of the most popular instruments to play. It has a nice romantic sound. It is also very lightweight and you can carry it around when you go. It is unlike many of the larger instruments... Continue Reading
Welcome new companies!
Brenda Chapman's Music Instrct in Antioch, CA
Wausau Music Center Inc in Park Falls, WI
4BROS Studio in Thousand Oaks, CA
Verhoog Piano Institute in Evanston, IL
Loma Linda Girls' Chorus in Loma Linda, CA
Capital University - Community Music School, Conservatory of Music in Columbus, OH
Academy of Music in Woodbine, NJ
AHA Drums in Gainesville, GA
Hummingbird Music in Los Osos, CA
P M Music Center in Aurora, IL
Musical Resource in Canaan, IN
Evergreen School of Music in Evergreen, CO
Schmitt Music in Minneapolis, MN
Revised Suzuki Violin in Toledo, OH
Guitar Union Music Shop in Plymouth, MI