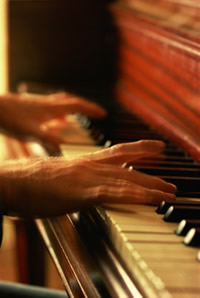 Musical Instrument Lessons at InstrumentLessons.org
Instrumet lessons can begin at absolutely any age, and you are never too old to pick up a new musical instrument, particularly if you know how to read music or have played an instrument before. Many people do not follow their ambition to learn to play an instrument because they do not think they have what it takes to learn how to play. Because you are never too old for instrument lessons, you can easily get started now and learn to play the instrument of your dreams. Younger students taking music lessons may be able to find the memory and dexterity easier, but you still have the advantage of time and dedication to take advantage of.

When it comes to instrument lessons, you can easily learn piano, guitar, woodwinds, violin, cello, drums and numerous other instruments as well. If you have an affinity for music and are interested in taking music lessons, it is never too late for you to get started. Music lessons are available from large schools and private instructors, so matter what you need, there are plenty of options for you to choose from.
Welcome New Companies:



Glenn Zervas Music Productions



Glenn Zervas Music Productions is a learning , production and recording facility. We teach guitar, bass, songwriting and digital recording. We prod...



Newton,, nj
Latest Reviews:



Progressive Music in Milford, CT
from Vincent Millea
Progressive Music is a great place to learn to play an instrument. There is instruction for piano, guitar, drums and voice as well as wind instrument...Details
From Our Blog:
How To Become A Pianist
The piano is one of the most common musical instruments that people learn to play. Taking piano lessons is really fun. Even if you don't have a piano at home you can still take lessons. Some people even purchase a keyboard so that they can practice without having a big piano in their home. When you first get started, you will learn to play basic songs. Then you can start learning more in... Continue Reading
Welcome new companies!
Swanson Guitar Instruction in Greensboro, NC
Akin Street Piano in Fort Collins, CO
Slava's Piano Studio in Plymouth, MN
Music for Young Children in Boxford, MA
Piano Lessons by Jeannie Olson in Terrebonne, OR
Kagan & Gaines Music CO Inc in Forest Park, IL
Bluegrass Shack in New Athens, IL
Studio K Music in Geneva, IL
Las Vegas Vocal Training in Las Vegas, NV
Deedra Patrick Vocal Studios in Bakersfield, CA
Antioch Music Center in Kansas City, MO
Piano Lessons People's Homes in Hayward, CA
MLC Branch in Philadelphia, PA
The Perlman Music Program in Shelter Island, NY
Professional Audio in Durant, OK