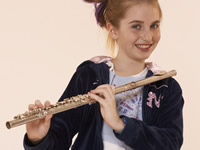 Musical Instrument Lessons at InstrumentLessons.org
Instrumet lessons can begin at absolutely any age, and you are never too old to pick up a new musical instrument, particularly if you know how to read music or have played an instrument before. Many people do not follow their ambition to learn to play an instrument because they do not think they have what it takes to learn how to play. Because you are never too old for instrument lessons, you can easily get started now and learn to play the instrument of your dreams. Younger students taking music lessons may be able to find the memory and dexterity easier, but you still have the advantage of time and dedication to take advantage of.

When it comes to instrument lessons, you can easily learn piano, guitar, woodwinds, violin, cello, drums and numerous other instruments as well. If you have an affinity for music and are interested in taking music lessons, it is never too late for you to get started. Music lessons are available from large schools and private instructors, so matter what you need, there are plenty of options for you to choose from.
Welcome New Companies:



Steve's Studio



I have been teaching for 15 years young and older beginner to advanced acoustic or electric. I do repairs. I will personally develop a teaching p...



Ontario, Or
Latest Reviews:



Jack Marshall in Kennett Square, PA
from Jordan D
Jack is an awesome teacher. I've only been playing guitar for one year and i've gotten farther than my dad did in 4 years(with a teacher he hated) of ...Details
From Our Blog:
Learn To Play The Flute
Many people want to pick up a new hobby, and playing a musical instrument may be just what you have in mind. When it comes to choosing a musical instrument, you may want to consider the flute. The flute is one of the most popular instruments to play. It has a nice romantic sound. It is also very lightweight and you can carry it around when you go. It is unlike many of the larger instruments... Continue Reading
Welcome new companies!
Mark Pryor – Drum Instructor in Mission Viejo, ca
Max Music Academy in Van Nuys, CA
John Huntington Studio in Mission Viejo, CA
The Voice Studio in Saint Charles, MO
Childbloom PMI Guitar School in Saint Cloud, MN
Kindermusic in Northfield, CT
Burbank Guitar Studio in Burbank, CA
Buzzy Orange Studio of Voice in Nashville, TN
Vinyl Frontier Records in Mchenry, IL
Freedmans Music in Bluffton, SC
Forever Drumming in Encino, CA
Jerry Bragin Vocal Coach in W Hempstead, NY
Rio Grand Valley Arts Studio in Harlingen, TX
Nadines Music Manor in Carrollton, TX
Music Guild in Danbury, CT