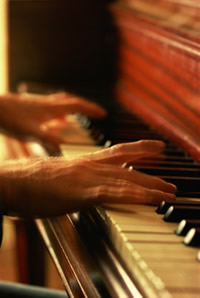 Musical Instrument Lessons at InstrumentLessons.org
Instrumet lessons can begin at absolutely any age, and you are never too old to pick up a new musical instrument, particularly if you know how to read music or have played an instrument before. Many people do not follow their ambition to learn to play an instrument because they do not think they have what it takes to learn how to play. Because you are never too old for instrument lessons, you can easily get started now and learn to play the instrument of your dreams. Younger students taking music lessons may be able to find the memory and dexterity easier, but you still have the advantage of time and dedication to take advantage of.

When it comes to instrument lessons, you can easily learn piano, guitar, woodwinds, violin, cello, drums and numerous other instruments as well. If you have an affinity for music and are interested in taking music lessons, it is never too late for you to get started. Music lessons are available from large schools and private instructors, so matter what you need, there are plenty of options for you to choose from.
Welcome New Companies:



Warrenton Private & Group Music Lessons



Learn to play in a fun and encouraging environment from an energetic teacher with a love and appreciation for music and the performing arts. Weekly...



Warrenton, Va
Latest Reviews:



Piano Lessons by Ellen in Lake Havasu City, AZ
from Jason L
Our 10 year old son loved his lessons from Ellen. We moved away from Lake Havasu, but otherwise would have continued to use her as our son's piano te...Details
From Our Blog:
All About Playing The Trombone
A Guide to Playing the Trombone Many people have found great pleasure in learning to play the trombone. The trombone is one of the wind instruments that is also in the brass family. You blow into the instrument to create the desirable sound that you are looking for. You use a slide to create different pitches of the sound that you are making. It is very similar to a trumpet, but also has a... Continue Reading
Welcome new companies!
Independent Music Service in Newbury, OH
Suzuki Music Association of Calif in Spring Valley, CA
Baldwin Westwood Music Ed Center in Cincinnati, OH
Melody Music Studios.Com in Pegram, TN
Bravo! ACAD of Performing Arts in Boca Raton, FL
Gymboree Play & Music Center in Brentwood, TN
Gilbert Music Vault in Gilbert, SC
NandoRodz Entertainment in New York, NY
Arlene E.Olsen Piano & Organ Instruction in Grayslake, IL
Valdez Professional Music School in Los Angeles, CA
Libertyville Music in Libertyville, IL
Balme Music Studio in Belford, NJ
Colorado School of Music in Golden, CO
ASM Music Schools in North Lauderdale, FL
Maxim in Palm Coast, FL