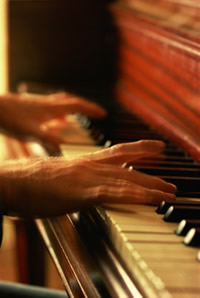 Musical Instrument Lessons at InstrumentLessons.org
Instrumet lessons can begin at absolutely any age, and you are never too old to pick up a new musical instrument, particularly if you know how to read music or have played an instrument before. Many people do not follow their ambition to learn to play an instrument because they do not think they have what it takes to learn how to play. Because you are never too old for instrument lessons, you can easily get started now and learn to play the instrument of your dreams. Younger students taking music lessons may be able to find the memory and dexterity easier, but you still have the advantage of time and dedication to take advantage of.

When it comes to instrument lessons, you can easily learn piano, guitar, woodwinds, violin, cello, drums and numerous other instruments as well. If you have an affinity for music and are interested in taking music lessons, it is never too late for you to get started. Music lessons are available from large schools and private instructors, so matter what you need, there are plenty of options for you to choose from.
Welcome New Companies:



GuitarFixer Bob LLC



Noted luthier Bob Pieper has set up a guitar repair shop in downtown Seymour, CT. - off Rt. 8 and convenient to highways & cities. He's offering lesso...



Seymour, CT
Latest Reviews:



Wu's Fine Violins in Sugar Land, TX
from Deb H.
The time of life known as mid-life crisis can often lead to a strong desire to "re-invent" yourself. I am that point in my life and have decided to d...Details
From Our Blog:
A Guide To Playing The Drums
If you have ever considered playing the drums, but were just not sure how to get started with it, then you may want to follow this guide. Learning to play the drums is not as easy as it seems, in fact there is a lot of detail that goes into it. It is not just a matter of beating on the drums. You have to play with a rhythm, instead of just senseless beating. If you have natural rhythm, you... Continue Reading
Welcome new companies!
Norman Beede in Laguna Beach, CA
Claudette Peterson in Oradell, NJ
Talent Sprouts in Ventura, CA
Green Room Recording & Instructional Studio in Statesville, NC
Cape Coral Academy of Music in Cape Coral, FL
Avalon School of the Arts in Holland, MI
Pianostylelive in Las Vegas, NV
Center for Chamber Music Inc in Stamford, CT
Paul H Dieke in Des Moines, IA
Matthew Ocone Guitar Studio in Spencer, NY
Archie Coons Music in Madison, IN
Sarver's Music Store in Sidney, OH
Longay Guitar Center in Santa Clara, CA
A-1 Nick Williams Award in Carmel, CA
P2 Learning Institute in Marysville, WA