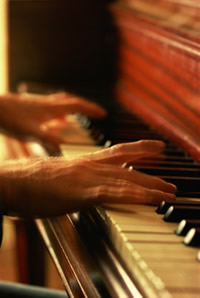 Musical Instrument Lessons at InstrumentLessons.org
Instrumet lessons can begin at absolutely any age, and you are never too old to pick up a new musical instrument, particularly if you know how to read music or have played an instrument before. Many people do not follow their ambition to learn to play an instrument because they do not think they have what it takes to learn how to play. Because you are never too old for instrument lessons, you can easily get started now and learn to play the instrument of your dreams. Younger students taking music lessons may be able to find the memory and dexterity easier, but you still have the advantage of time and dedication to take advantage of.

When it comes to instrument lessons, you can easily learn piano, guitar, woodwinds, violin, cello, drums and numerous other instruments as well. If you have an affinity for music and are interested in taking music lessons, it is never too late for you to get started. Music lessons are available from large schools and private instructors, so matter what you need, there are plenty of options for you to choose from.
Welcome New Companies:



Take Sessions



Take Session is a private music lessons company that caters to aspiring aritsts and performers. We work with all ages and skill levels, while focusing...



Los Angeles, Ca
Latest Reviews:



Paul Green School of Rock in Sandy, UT
from Lauren Kostoff
I am looking at study/starting a degree career in hard rock/heavy metal' I am retired military and have qualified under the GI Bill....Details
From Our Blog:
Starting Out With An Electric Guitar
A Guide to Playing an Electric Guitar If you have experience playing the guitar, you may want to consider learning how to play an electric guitar. This is a bit different than the acoustic guitar, but it is a lot of fun learning how to play. It is also a great way to improve your guitar playing skills. You will find that there are many similarities with the acoustic and electric guitars,... Continue Reading
Welcome new companies!
Buffalo Music School in Buffalo, NY
Harmony Road Music Studio in Boise, ID
T-N-T Music in Alamogordo, NM
Piano Lessons in Holbrook, NY
Music Laboratory in San Luis Obispo, CA
Music Works in Grass Valley, CA
Harmony Road Music Center in Clackamas, OR
McKenzie's Music Company in Gorham, NH
Fine Kline Strings in Chicago, IL
Lawrence Duff in Santa Barbara, Ca
Wilson Music CO in Chattanooga, TN
New Music in Albany, NY
Michael Eldridge Piano in San Jose, CA
Harmony Atlanta's INTL Youth in Atlanta, GA
Janis Johnson Piano Studio in Morro Bay, CA