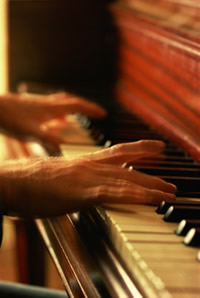 Musical Instrument Lessons at InstrumentLessons.org
Instrumet lessons can begin at absolutely any age, and you are never too old to pick up a new musical instrument, particularly if you know how to read music or have played an instrument before. Many people do not follow their ambition to learn to play an instrument because they do not think they have what it takes to learn how to play. Because you are never too old for instrument lessons, you can easily get started now and learn to play the instrument of your dreams. Younger students taking music lessons may be able to find the memory and dexterity easier, but you still have the advantage of time and dedication to take advantage of.

When it comes to instrument lessons, you can easily learn piano, guitar, woodwinds, violin, cello, drums and numerous other instruments as well. If you have an affinity for music and are interested in taking music lessons, it is never too late for you to get started. Music lessons are available from large schools and private instructors, so matter what you need, there are plenty of options for you to choose from.
Welcome New Companies:



Rock With A Band



In these programs we begin with private lessons for the students. In lessons the student learns how to play their instrument or sing! We then ...



Amarillo, TX
Latest Reviews:



Guitar Institute-Indianapolis in Indianapolis, IN
from jamey F
I founded the Guitar Institue of Indianapolis in 1999, & closed it in 2006. If you'd like to study with me- jamey Faulkner - please call 317-300-4618...Details
From Our Blog:
How To Become A Pianist
The piano is one of the most common musical instruments that people learn to play. Taking piano lessons is really fun. Even if you don't have a piano at home you can still take lessons. Some people even purchase a keyboard so that they can practice without having a big piano in their home. When you first get started, you will learn to play basic songs. Then you can start learning more in... Continue Reading
Welcome new companies!
Austin Repertoire CO in Austin, TX
Mitchell Music in Oreland, PA
Guitar Works in Bargersville, IN
Balme Music Studio in Middletown, NJ
Nakisa Music Institute in Sherman Oaks, CA
Jim Capps Music Studio in Madisonville, KY
DRUM LESSONS CLASES DE BATERIA MIAMI in Miami, FL
Guitar Workshop in Brooklyn, NY
Country String Shop & Music Academy in Campbelltown, PA
Music Room in Ava, MO
Draisen-Edwards Music Center in Marietta, GA
Olenka School of Music in Ellicott City, MD
Amadeus Piano & Flute Studio in Gaithersburg, MD
Derhay Music Studio in Toms River, NJ
Johnny Guitar Shop in Myrtle Beach, SC