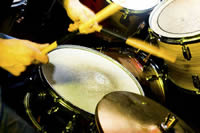 Musical Instrument Lessons at InstrumentLessons.org
Instrumet lessons can begin at absolutely any age, and you are never too old to pick up a new musical instrument, particularly if you know how to read music or have played an instrument before. Many people do not follow their ambition to learn to play an instrument because they do not think they have what it takes to learn how to play. Because you are never too old for instrument lessons, you can easily get started now and learn to play the instrument of your dreams. Younger students taking music lessons may be able to find the memory and dexterity easier, but you still have the advantage of time and dedication to take advantage of.

When it comes to instrument lessons, you can easily learn piano, guitar, woodwinds, violin, cello, drums and numerous other instruments as well. If you have an affinity for music and are interested in taking music lessons, it is never too late for you to get started. Music lessons are available from large schools and private instructors, so matter what you need, there are plenty of options for you to choose from.
Welcome New Companies:



John Michael Fox Teaching Studio



Violin and Viola Lessons available for all ages and advancements. Lessons are taught in 30 or 60 minute durations at Lunsford's Musical Instruments an...



Knoxville, TN
Latest Reviews:



Guitar Doctor Guitar Restoration Clinic in New Hyde Park, NY
from Tony S
If your guitar needs repair, this is the place to go. Complete pros, great prices, and the best work around. Come if you need strings too. I won't bri...Details
From Our Blog:
Starting Out With An Electric Guitar
A Guide to Playing an Electric Guitar If you have experience playing the guitar, you may want to consider learning how to play an electric guitar. This is a bit different than the acoustic guitar, but it is a lot of fun learning how to play. It is also a great way to improve your guitar playing skills. You will find that there are many similarities with the acoustic and electric guitars,... Continue Reading
Welcome new companies!
Rockshop Music in Fort Pierce, FL
Symphony Studios School-Music in Southampton, PA
Piano Studio by Lilian Yoffe in Sugar Land, TX
Royal Conservatory of Music in Naples, FL
Creative Exchange Music Therapy in Westchester, IL
Manuel Jeff in Chicago, IL
New York Piano Academy in New York, NY
Inland Chamber Musicians in Rancho Cucamonga, CA
White Noise Music Studio in Beaverton, OR
Benaglia Music Studio in Washington, DC
DCI Studio in Wilmington, NC
Western Reserve Music in Hudson, OH
Guitar Foundations in Houghton, MI
C B Percussion Instructions in Dallas, TX
Jerry Luck Studios in Eastpointe, MI