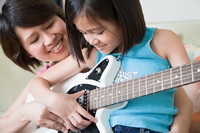 Musical Instrument Lessons at InstrumentLessons.org
Instrumet lessons can begin at absolutely any age, and you are never too old to pick up a new musical instrument, particularly if you know how to read music or have played an instrument before. Many people do not follow their ambition to learn to play an instrument because they do not think they have what it takes to learn how to play. Because you are never too old for instrument lessons, you can easily get started now and learn to play the instrument of your dreams. Younger students taking music lessons may be able to find the memory and dexterity easier, but you still have the advantage of time and dedication to take advantage of.

When it comes to instrument lessons, you can easily learn piano, guitar, woodwinds, violin, cello, drums and numerous other instruments as well. If you have an affinity for music and are interested in taking music lessons, it is never too late for you to get started. Music lessons are available from large schools and private instructors, so matter what you need, there are plenty of options for you to choose from.
Welcome New Companies:



Keyboard Touch



Music lessons for piano, keyboard, organ, voice and guitar. Professional instruction for all levels for ages 3 through adult....



Darien, IL
Latest Reviews:



Jack Marshall in Kennett Square, PA
from Jordan D
Jack is an awesome teacher. I've only been playing guitar for one year and i've gotten farther than my dad did in 4 years(with a teacher he hated) of ...Details
From Our Blog:
Starting Out With An Electric Guitar
A Guide to Playing an Electric Guitar If you have experience playing the guitar, you may want to consider learning how to play an electric guitar. This is a bit different than the acoustic guitar, but it is a lot of fun learning how to play. It is also a great way to improve your guitar playing skills. You will find that there are many similarities with the acoustic and electric guitars,... Continue Reading
Welcome new companies!
Duluth School of Talent Ed in Duluth, MN
Marchand Music in Novato, CA
Picker's Paradise in Stapleton, AL
Pacific Productions in Pacifica, CA
Rebecca Studios Piano in Antioch, IL
Richman Howard Piano-Synth Training in Tarzana, CA
Tolland County Music Together in Tolland, CT
Anderson Music in Fort Lauderdale, FL
Settlement Music School in Philadelphia, PA
Gymboree in Utica, MI
Piano Studios & Showcase in Medford, OR
Roberts Community Music School - Roberts Wesleyan College Community Orchestra in North Chili, NY
Guitar Instruction in Colorado Springs, CO
Shine Piano & Music Education in Fargo, ND
Piano Lessons in Portland, OR