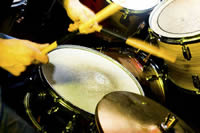 Musical Instrument Lessons at InstrumentLessons.org
Instrumet lessons can begin at absolutely any age, and you are never too old to pick up a new musical instrument, particularly if you know how to read music or have played an instrument before. Many people do not follow their ambition to learn to play an instrument because they do not think they have what it takes to learn how to play. Because you are never too old for instrument lessons, you can easily get started now and learn to play the instrument of your dreams. Younger students taking music lessons may be able to find the memory and dexterity easier, but you still have the advantage of time and dedication to take advantage of.

When it comes to instrument lessons, you can easily learn piano, guitar, woodwinds, violin, cello, drums and numerous other instruments as well. If you have an affinity for music and are interested in taking music lessons, it is never too late for you to get started. Music lessons are available from large schools and private instructors, so matter what you need, there are plenty of options for you to choose from.
Welcome New Companies:



teVelde Music, Inc.



Our specialties include all styles, all styles & ages, developing musical possibilities , drums, guitar, piano, pre-school thru adult, private or grou...



Santa Maria, CA
Latest Reviews:



Pladd Dot Music in Statesboro, GA
from Jim F
The music instructors at Pladd Dot Music are highly trained and have phenomenal results! My son is highly motivated to practice and perform for our f...Details
From Our Blog:
All About Playing The Trombone
A Guide to Playing the Trombone Many people have found great pleasure in learning to play the trombone. The trombone is one of the wind instruments that is also in the brass family. You blow into the instrument to create the desirable sound that you are looking for. You use a slide to create different pitches of the sound that you are making. It is very similar to a trumpet, but also has a... Continue Reading
Welcome new companies!
Hungness School Of Music in Rochester, NY
Alhambra Music Academy in Alhambra, CA
Robert Perlis in Lancaster, PA
Pakachoag Community Music School in Auburn, MA
Janis Music CO Inc in Manteca, CA
Woodlowe Music Center in Woodland Hills, CA
Augsuta Music Institute in Augusta, GA
Kwo Music in San Gabriel, CA
Upper Arlington Music Academy in Columbus, OH
Piano Studio of Cristal Patterson in Oroville, CA
Elite Music Instruction in Orlando, FL
Southwest Michigan School of Music in Stevensville, MI
De Atley Piano Studio & Shop in Shawnee, KS
88 Keys Music Studio LLC in Lancaster, OH
Eric Hansen -Voice-Guitar-Performance Lessons in Tucson, AZ