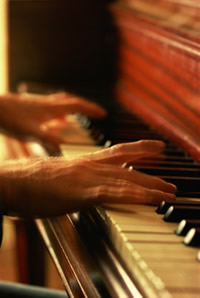 Musical Instrument Lessons at InstrumentLessons.org
Instrumet lessons can begin at absolutely any age, and you are never too old to pick up a new musical instrument, particularly if you know how to read music or have played an instrument before. Many people do not follow their ambition to learn to play an instrument because they do not think they have what it takes to learn how to play. Because you are never too old for instrument lessons, you can easily get started now and learn to play the instrument of your dreams. Younger students taking music lessons may be able to find the memory and dexterity easier, but you still have the advantage of time and dedication to take advantage of.

When it comes to instrument lessons, you can easily learn piano, guitar, woodwinds, violin, cello, drums and numerous other instruments as well. If you have an affinity for music and are interested in taking music lessons, it is never too late for you to get started. Music lessons are available from large schools and private instructors, so matter what you need, there are plenty of options for you to choose from.
Welcome New Companies:



AOH Productions



Hello everyone my name is Angel Campbell and I currently give drum and guitar lessons to all ages. I can teach all levels of drummers teaching such th...



Billings, MT
Latest Reviews:



D'Angelo Keyboard Studio in Youngstown, OH
from Eugene M.
Both Sam and Rosalie are superb players and teachers. I took lessons from Sam for several years. He is great at comping gospel, jazz, and a variety ...Details
From Our Blog:
All About Playing The Trombone
A Guide to Playing the Trombone Many people have found great pleasure in learning to play the trombone. The trombone is one of the wind instruments that is also in the brass family. You blow into the instrument to create the desirable sound that you are looking for. You use a slide to create different pitches of the sound that you are making. It is very similar to a trumpet, but also has a... Continue Reading
Welcome new companies!
Colangelo Studio in Arlington, VA
Aircut Studio in San Luis Obispo, CA
Music Cafe in Sauk City, WI
Gumboree Play & Music in Friendswood, TX
BEBB Annette in Sacramento, CA
Joanja Enterprises Inc in Bakersfield, CA
Alpine Piano School in Denver, CO
Andrew Pratt-Guitar Instruction in Wilmette, IL
Imagine Arts in Forest Park, GA
Melissa Cross Vocal Studio in New York, NY
Pakistani Music & Cultural in Brooklyn, NY
Piano Private Lesson in New York, NY
Mobile Drum Lessons By Martin in Irvine, CA
Well-Tempered Tuning in Walla Walla, WA
Baeg Piano Academy in Mcallen, TX