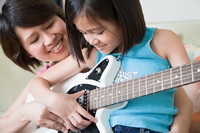 Musical Instrument Lessons at InstrumentLessons.org
Instrumet lessons can begin at absolutely any age, and you are never too old to pick up a new musical instrument, particularly if you know how to read music or have played an instrument before. Many people do not follow their ambition to learn to play an instrument because they do not think they have what it takes to learn how to play. Because you are never too old for instrument lessons, you can easily get started now and learn to play the instrument of your dreams. Younger students taking music lessons may be able to find the memory and dexterity easier, but you still have the advantage of time and dedication to take advantage of.

When it comes to instrument lessons, you can easily learn piano, guitar, woodwinds, violin, cello, drums and numerous other instruments as well. If you have an affinity for music and are interested in taking music lessons, it is never too late for you to get started. Music lessons are available from large schools and private instructors, so matter what you need, there are plenty of options for you to choose from.
Welcome New Companies:



Donohue Studios



The Richard Donohue Studio of Music offers piano, voice, organ, guitar and theory lessons to beginner and advanced students....



Cromwell, ct
Latest Reviews:



Atlanta Premier Guitars in Conyers, GA
from Bud Onstad
I have been taking lessons from Jeff Griffin. He is an excellent instructor and a great guitar, banjo, mandolin player. Last year I went to a first ...Details
From Our Blog:
How To Become A Pianist
The piano is one of the most common musical instruments that people learn to play. Taking piano lessons is really fun. Even if you don't have a piano at home you can still take lessons. Some people even purchase a keyboard so that they can practice without having a big piano in their home. When you first get started, you will learn to play basic songs. Then you can start learning more in... Continue Reading
Welcome new companies!
Dalcroze School of Music in New York, NY
Musician's Workshop in Spokane, WA
Promusic Conservertory in Wilson, NC
Dye Music CO in Charlotte, NC
Guitar Outlet in Syracuse, NY
Laboratory Band Program Associates in Coos Bay, OR
Musette in Lakewood, WA
Arlene Beroff in Bridgewater, NJ
Lester Music Studios in Phoenix, AZ
Katie Agresta Studio in New York, NY
Junior Music Academy in Kalispell, MT
Kennedy James L in Mount Vernon, IA
Vintage Musical Instruments in Dahlonega, GA
Harvey Finstein Music Studio in Newtonville, MA
Community Music School in Buffalo, NY