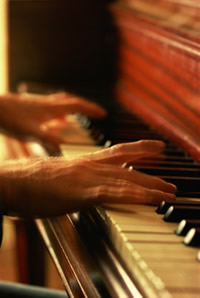 Musical Instrument Lessons at InstrumentLessons.org
Instrumet lessons can begin at absolutely any age, and you are never too old to pick up a new musical instrument, particularly if you know how to read music or have played an instrument before. Many people do not follow their ambition to learn to play an instrument because they do not think they have what it takes to learn how to play. Because you are never too old for instrument lessons, you can easily get started now and learn to play the instrument of your dreams. Younger students taking music lessons may be able to find the memory and dexterity easier, but you still have the advantage of time and dedication to take advantage of.

When it comes to instrument lessons, you can easily learn piano, guitar, woodwinds, violin, cello, drums and numerous other instruments as well. If you have an affinity for music and are interested in taking music lessons, it is never too late for you to get started. Music lessons are available from large schools and private instructors, so matter what you need, there are plenty of options for you to choose from.
Welcome New Companies:



Andrew Benzie Bass & Drum Instruction



I offer private music instruction on both the electric bass and the drumset in the San Francisco Bay Area....



Orinda, CA
Latest Reviews:



Corner Music in Old Saybrook, CT
from Guitar Kid
I really love my lessons there. The teachers are so nice and my mom says the prices are good and it's a nice place. I have to keep my grades up so I c...Details
From Our Blog:
How To Become A Pianist
The piano is one of the most common musical instruments that people learn to play. Taking piano lessons is really fun. Even if you don't have a piano at home you can still take lessons. Some people even purchase a keyboard so that they can practice without having a big piano in their home. When you first get started, you will learn to play basic songs. Then you can start learning more in... Continue Reading
Welcome new companies!
Learn To Drum in Fort Lauderdale, FL
Dane's Classic Piano in Riverside, CA
Joysounds Music School in New Braunfels, TX
William Paisner in Temecula, CA
Community School of the Arts in Kansas City, MO
GUITAR LESSONS by Thomas Coffey in Tampa, FL
Jon Call in Walnut Creek, CA
Kramer Music & Dance Studio in Saginaw, MI
Hudson Physical Therapy in West Orange, NJ
Suzuki Piano Studio in Ballwin, MO
Lee Clapham Piano & Guitar STD in Lemon Grove, CA
West Chester Academy of Music in West Chester, OH
Gloria Noble Music Studio in Santa Clara, CA
Pearson Music CO in Durham, NC
Patterson Norris in Detroit, MI