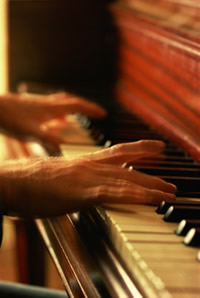 Musical Instrument Lessons at InstrumentLessons.org
Instrumet lessons can begin at absolutely any age, and you are never too old to pick up a new musical instrument, particularly if you know how to read music or have played an instrument before. Many people do not follow their ambition to learn to play an instrument because they do not think they have what it takes to learn how to play. Because you are never too old for instrument lessons, you can easily get started now and learn to play the instrument of your dreams. Younger students taking music lessons may be able to find the memory and dexterity easier, but you still have the advantage of time and dedication to take advantage of.

When it comes to instrument lessons, you can easily learn piano, guitar, woodwinds, violin, cello, drums and numerous other instruments as well. If you have an affinity for music and are interested in taking music lessons, it is never too late for you to get started. Music lessons are available from large schools and private instructors, so matter what you need, there are plenty of options for you to choose from.
Welcome New Companies:



Newton Music Academy



Newton Music Academy offers top-quality Music Lessons and Dance Classes for all ages. Our school is conveniently located on the Needham - Newton li...



Needham, ma
Latest Reviews:



Belle School of Music in Yonkers, NY
from Magda
Excellent program. My son learned a lot in 2years. also met some very nice people in my class....Details
From Our Blog:
Start Playing The Saxophone
The saxophone is a great instrument to learn, and you will soon find that it is really fun. When you are successful at learning to play, you will even find a great sense of accomplishment. There are a few different types of sax instruments for you to choose from. While there are a few different types, it does not really matter which one you choose when you are first getting started. You can... Continue Reading
Welcome new companies!
Bower Music Voice & Piano in Albuquerque, NM
Academy of Fretted Instruments in Peoria, IL
Guitar Lessons by Steve Karbo in Yellville, AR
Lee Clapham Piano & Guitar STD in Lemon Grove, CA
Mike Andrews Guitar Studio in Danbury, CT
Music Lessons by Ruben in San Jose, CA
Qadash in Los Angeles, CA
Ingram & Brauns Musik Shoppe in Modesto, CA
Ray Brown in El Dorado, CA
Petite Productions Dance & Arts Academy in Catskill, NY
Laverty Mark in Chesterfield, MO
National Piano Outlet in Chantilly, VA
Sunshine Generation in Diamond Bar, CA
Costello Music in Hilton, NY
McLaughlin Music Services in Columbus, MS