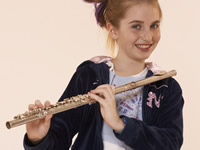 Musical Instrument Lessons at InstrumentLessons.org
Instrumet lessons can begin at absolutely any age, and you are never too old to pick up a new musical instrument, particularly if you know how to read music or have played an instrument before. Many people do not follow their ambition to learn to play an instrument because they do not think they have what it takes to learn how to play. Because you are never too old for instrument lessons, you can easily get started now and learn to play the instrument of your dreams. Younger students taking music lessons may be able to find the memory and dexterity easier, but you still have the advantage of time and dedication to take advantage of.

When it comes to instrument lessons, you can easily learn piano, guitar, woodwinds, violin, cello, drums and numerous other instruments as well. If you have an affinity for music and are interested in taking music lessons, it is never too late for you to get started. Music lessons are available from large schools and private instructors, so matter what you need, there are plenty of options for you to choose from.
Welcome New Companies:



Dan's Guitar Studio



Dan's Guitar Studio, located in St. Paul, MN, offers guitar lessons for all ages and abilities: Folk, Country, Rock, Blues, Pop, Classical. Electric o...



Saint Paul, MN
Latest Reviews:



Jason Fowler Guitar Instructor in Festus, MO
from Makena Moss
Jason is great, I've been taking lessons for close to a year and started with an acoustic and am now playing the electric. He is very knowledgeable an...Details
From Our Blog:
Learn To Play The Flute
Many people want to pick up a new hobby, and playing a musical instrument may be just what you have in mind. When it comes to choosing a musical instrument, you may want to consider the flute. The flute is one of the most popular instruments to play. It has a nice romantic sound. It is also very lightweight and you can carry it around when you go. It is unlike many of the larger instruments... Continue Reading
Welcome new companies!
High Note Vocals in Lansdale, PA
St Cecelia's Music Studio in Front Royal, VA
Don Cardoza Music in Fremont, CA
New York Youth Symphony in New York, NY
Royal Jam Music USA in Lehighton, PA
Music Room Inc in Rome, GA
String Corner in Syracuse, NY
Music Conservatory of Texas in Frisco, TX
Dave Zuber Guitar & Piano in Evergreen, CO
Music Time in Livermore, CA
Blakeley Custom Homes in Mckinney, TX
Ken's Studio in Merrillville, IN
Center for Musical Development in Springfield, OH
River Raisin Centre for Arts in Monroe, MI
Splet Music School in Kunkletown, PA