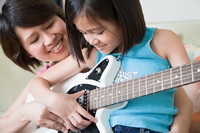 Musical Instrument Lessons at InstrumentLessons.org
Instrumet lessons can begin at absolutely any age, and you are never too old to pick up a new musical instrument, particularly if you know how to read music or have played an instrument before. Many people do not follow their ambition to learn to play an instrument because they do not think they have what it takes to learn how to play. Because you are never too old for instrument lessons, you can easily get started now and learn to play the instrument of your dreams. Younger students taking music lessons may be able to find the memory and dexterity easier, but you still have the advantage of time and dedication to take advantage of.

When it comes to instrument lessons, you can easily learn piano, guitar, woodwinds, violin, cello, drums and numerous other instruments as well. If you have an affinity for music and are interested in taking music lessons, it is never too late for you to get started. Music lessons are available from large schools and private instructors, so matter what you need, there are plenty of options for you to choose from.
Welcome New Companies:



Sharps and Flats School of Music



Piano Lessons offered in the privacy and comfort of your own home. Innovative techniques developed to encourage students to practice and enjoy piano....



Rochester Hills, Mi
Latest Reviews:



Scott Perro Music Instruction in New Orleans, LA
from Russ B
Scott, you taught two of our boys guitar in the late 80's in Mobile. You also played at several dinners for us. We enjoyed getting to know you and ...Details
From Our Blog:
Learn To Play The Flute
Many people want to pick up a new hobby, and playing a musical instrument may be just what you have in mind. When it comes to choosing a musical instrument, you may want to consider the flute. The flute is one of the most popular instruments to play. It has a nice romantic sound. It is also very lightweight and you can carry it around when you go. It is unlike many of the larger instruments... Continue Reading
Welcome new companies!
Sector Inc in New York, NY
Virginia School of Music in Eveleth, MN
Laapa Louisiana Academy of Performing Arts in New Orleans, LA
Best Guitar Lessons & Repair in Phoenix, AZ
Proforce Solutions in Melville, NY
Owen Piano CO in Canoga Park, CA
Music Time Studio in Apex, NC
Brown Christopher Piano Tunr in East Wareham, MA
Music & Arts Center in Dallas, TX
Lessons Studio Guitar in Lumberton, TX
The Player's Bench Music Store in Crystal Lake, IL
1st Chair Student Music Prgms in North Royalton, OH
Playtime Piano Instructions in Owings Mills, MD
String Music Instruction in Chattanooga, TN
Kindermusik of Charlotte in Charlotte, NC