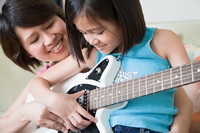 Musical Instrument Lessons at InstrumentLessons.org
Instrumet lessons can begin at absolutely any age, and you are never too old to pick up a new musical instrument, particularly if you know how to read music or have played an instrument before. Many people do not follow their ambition to learn to play an instrument because they do not think they have what it takes to learn how to play. Because you are never too old for instrument lessons, you can easily get started now and learn to play the instrument of your dreams. Younger students taking music lessons may be able to find the memory and dexterity easier, but you still have the advantage of time and dedication to take advantage of.

When it comes to instrument lessons, you can easily learn piano, guitar, woodwinds, violin, cello, drums and numerous other instruments as well. If you have an affinity for music and are interested in taking music lessons, it is never too late for you to get started. Music lessons are available from large schools and private instructors, so matter what you need, there are plenty of options for you to choose from.
Welcome New Companies:



Allegro Piano Studio



Private piano lessons for all ages. Experienced and degreed teachers. Piano performance and music theory offered....



san antonio, tx
Latest Reviews:



Corner Music in Old Saybrook, CT
from Guitar Kid
I really love my lessons there. The teachers are so nice and my mom says the prices are good and it's a nice place. I have to keep my grades up so I c...Details
From Our Blog:
Start Playing The Saxophone
The saxophone is a great instrument to learn, and you will soon find that it is really fun. When you are successful at learning to play, you will even find a great sense of accomplishment. There are a few different types of sax instruments for you to choose from. While there are a few different types, it does not really matter which one you choose when you are first getting started. You can... Continue Reading
Welcome new companies!
Junior Music Academy in Orange, CA
Jc Music LLC in Meriden, CT
Strings for America in San Antonio, TX
Perry's Debra Vocal Development Studio in New Bedford, MA
Carlo Dick Drum & Percussion Instruction in San Jose, CA
Alison's World of Music in Denham Springs, LA
Kathleen Rickner in Fremont, CA
Classic Music in Great Neck, NY
Ben Harris Music Studio in Tulsa, OK
Art Scott Music in Laguna Hills, CA
Ithaca Guitar Works Inc in Ithaca, NY
North Atlanta Talent Education in Roswell, GA
Frank & Camille's School of Music in Melville, NY
New Ulm Suzuki School of Music in New Ulm, MN
Meyer Music CO in Blue Springs, MO