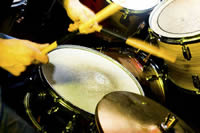 Musical Instrument Lessons at InstrumentLessons.org
Instrumet lessons can begin at absolutely any age, and you are never too old to pick up a new musical instrument, particularly if you know how to read music or have played an instrument before. Many people do not follow their ambition to learn to play an instrument because they do not think they have what it takes to learn how to play. Because you are never too old for instrument lessons, you can easily get started now and learn to play the instrument of your dreams. Younger students taking music lessons may be able to find the memory and dexterity easier, but you still have the advantage of time and dedication to take advantage of.

When it comes to instrument lessons, you can easily learn piano, guitar, woodwinds, violin, cello, drums and numerous other instruments as well. If you have an affinity for music and are interested in taking music lessons, it is never too late for you to get started. Music lessons are available from large schools and private instructors, so matter what you need, there are plenty of options for you to choose from.
Welcome New Companies:



NJ Drum School (Roy Van Tassel)



I am a full-time drum instructor teaching 30-40 students weekly. Anyone interested in lessons can contact me, I will soon be offering Skype lessons. ...



Newfoundland, NJ
Latest Reviews:



Parish Musical Arts in Columbus, OH
from Renee Freeman
Roger starting giving my son Keyboard lessons and right away people noticed a difference. My son is excited about playiing. I feel that my son is bei...Details
From Our Blog:
Learn To Play The Flute
Many people want to pick up a new hobby, and playing a musical instrument may be just what you have in mind. When it comes to choosing a musical instrument, you may want to consider the flute. The flute is one of the most popular instruments to play. It has a nice romantic sound. It is also very lightweight and you can carry it around when you go. It is unlike many of the larger instruments... Continue Reading
Welcome new companies!
Acoustic Sessions Inc in New York, NY
Community Music School-Uncg in Greensboro, NC
American Performance Studio in Mountainside, NJ
Tonia Ganzhorn Piano Studio in Novato, CA
Homespun Tapes in Saugerties, NY
Rose's School of Dance in Hawthorne, NY
Music Central in Yucaipa, CA
Portman's Music Superstore in Augusta, GA
Birmingham-Southern College - Multicultural Affairs in Birmingham, AL
Boulder Guitar Coach in Boulder, CO
The Conservatory of Central Illinois in Champaign, IL
Acalos Minos Musica Y MAS in Los Angeles, CA
Karen Stallworth in Mobile, AL
A.V.A. STUDIO, INC in Miami, FL
Gasse School of Music in Forest Park, IL