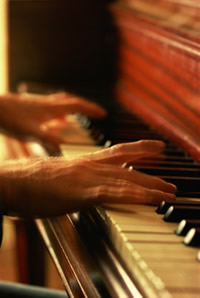 Musical Instrument Lessons at InstrumentLessons.org
Instrumet lessons can begin at absolutely any age, and you are never too old to pick up a new musical instrument, particularly if you know how to read music or have played an instrument before. Many people do not follow their ambition to learn to play an instrument because they do not think they have what it takes to learn how to play. Because you are never too old for instrument lessons, you can easily get started now and learn to play the instrument of your dreams. Younger students taking music lessons may be able to find the memory and dexterity easier, but you still have the advantage of time and dedication to take advantage of.

When it comes to instrument lessons, you can easily learn piano, guitar, woodwinds, violin, cello, drums and numerous other instruments as well. If you have an affinity for music and are interested in taking music lessons, it is never too late for you to get started. Music lessons are available from large schools and private instructors, so matter what you need, there are plenty of options for you to choose from.
Welcome New Companies:



Ivory League Piano Studio



The Ivory League Studio was created in 1985 by Cheryl Wiker. The studio offers several unique features. Students are with Ms. Cheryl for 30 minutes fo...



Ypsilanti, Mi
Latest Reviews:



Spiers Music Center in McComb, MS
from Jerry Terrell jr.
I have a trumpet that I bought before y'all went ou of bussiness and I would love to find y'all to get it because my parents worked hard to pay on it ...Details
From Our Blog:
Learning On A Trumpet
Many people love playing the trumpet, and there are even more people that wish that they knew how to play. When you are considering learning to play, you may want to keep a few things in mind. First of all, you need to learn how to actually make the trumpet produce sound. Once you understand this concept, you will want to learn how to play actual notes on it. You may feel that you already... Continue Reading
Welcome new companies!
Bandbox Music in Lakeport, CA
Gymboree in Plymouth, MA
Music for Children in Stamford, CT
Bob Brown Guitar Studio in Albuquerque, NM
Junior Music Academy in Westlake Village, CA
Cross Studio in Ottawa, IL
AKA Stevens Voice Studio in Vista, CA
Columbia Rock Academy in Columbia, SC
New Mexico School of Music in Albuquerque, NM
Kindermusik by Heidi Hibma in Sioux Center, IA
Joe Solomons Bass Workshop in New York, NY
Northern Conservatory Studios in Bangor, ME
Orange County Music Academy in Anaheim, CA
Kindermusik With Judy Lawrence in Kingston, WA
Minute Man Music Center in Lexington, MA