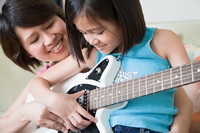 Musical Instrument Lessons at InstrumentLessons.org
Instrumet lessons can begin at absolutely any age, and you are never too old to pick up a new musical instrument, particularly if you know how to read music or have played an instrument before. Many people do not follow their ambition to learn to play an instrument because they do not think they have what it takes to learn how to play. Because you are never too old for instrument lessons, you can easily get started now and learn to play the instrument of your dreams. Younger students taking music lessons may be able to find the memory and dexterity easier, but you still have the advantage of time and dedication to take advantage of.

When it comes to instrument lessons, you can easily learn piano, guitar, woodwinds, violin, cello, drums and numerous other instruments as well. If you have an affinity for music and are interested in taking music lessons, it is never too late for you to get started. Music lessons are available from large schools and private instructors, so matter what you need, there are plenty of options for you to choose from.
Welcome New Companies:



Absolute Music Studios



Absolute Music Studios is committed to providing a fun, relaxed and state-of-the-art facility to help people of all ages achieve their musical goals. ...



Jupiter, FL
Latest Reviews:



Richard Heiberger Classical in Chicago, IL
from Sonja Nordstrom
Richard Heiberger is a wonderful teacher. I took private piano lessons from him and became a much better player as a result. ...Details
From Our Blog:
Mastering The Acoustic Guitar
If you are interested in learning how to play an acoustic guitar, it is important to learn the basics from the get go. You will want to follow some basic instructions that will help you to be a better player. It will also save you a lot of time and frustration in the future as you become a better player. You will first start by learning how to play a few chords, and then you will be able to... Continue Reading
Welcome new companies!
Zhe Clampitt Enterprises in Redford, MI
Debaise J Music Studio in Liverpool, NY
Elephant Notes Music Instruction in Alpharetta, GA
NBHN Performing Arts Center in Northampton, PA
Kindermusik With Lisa Hough in Canandaigua, NY
First Street Music in Lake City, FL
Colorblind Studios in Concord, CA
California Drum Shop in Bethlehem, PA
Friedman David in Piermont, NY
Premier Music Lessons in Santa Clarita, CA
Diana Nadel Piano Studio in El Cajon, CA
Gateway Clothing & Gifts in Cleveland, GA
Used Instrument X-Change in Appleton, WI
Harp World Inc in Anaheim, CA
Ferri Music Studios in Livingston, NJ