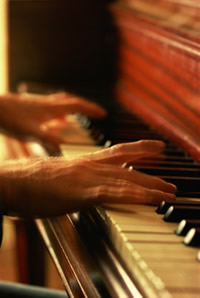 Musical Instrument Lessons at InstrumentLessons.org
Instrumet lessons can begin at absolutely any age, and you are never too old to pick up a new musical instrument, particularly if you know how to read music or have played an instrument before. Many people do not follow their ambition to learn to play an instrument because they do not think they have what it takes to learn how to play. Because you are never too old for instrument lessons, you can easily get started now and learn to play the instrument of your dreams. Younger students taking music lessons may be able to find the memory and dexterity easier, but you still have the advantage of time and dedication to take advantage of.

When it comes to instrument lessons, you can easily learn piano, guitar, woodwinds, violin, cello, drums and numerous other instruments as well. If you have an affinity for music and are interested in taking music lessons, it is never too late for you to get started. Music lessons are available from large schools and private instructors, so matter what you need, there are plenty of options for you to choose from.
Welcome New Companies:



Kwo Music



I believe in a well rounded music education. I have seen way too many piano students who gets trained for many years only ending up unable to even pla...



San Gabriel, CA
Latest Reviews:



Pete FOXX Guitar Studio in Los Angeles, CA
from Carlos H
I've had many guitar teachers in my time, but Mr. Foxx teaches music theory in such a way that I was able to play by ear, modulate keys and solo withi...Details
From Our Blog:
Starting Out With An Electric Guitar
A Guide to Playing an Electric Guitar If you have experience playing the guitar, you may want to consider learning how to play an electric guitar. This is a bit different than the acoustic guitar, but it is a lot of fun learning how to play. It is also a great way to improve your guitar playing skills. You will find that there are many similarities with the acoustic and electric guitars,... Continue Reading
Welcome new companies!
Noble School of Music in Mishawaka, IN
Musik Room in Grant Park, IL
Kagan & Gaines Music CO Inc in Forest Park, IL
Deborah's Stage Door Center in Rochester, MI
Brandon Guitar Studio in Lubbock, TX
Douglas Pieper Voice & Piano in Mechanicsburg, PA
Aquarian Music School in Houston, TX
North Star Studios in Colorado Springs, CO
Evan Sachs Piano Studio in San Clemente, ca
Ed Morris in Saint Ann, MO
Ramblin' Rhodes in New Port Richey, FL
Musicians Choice Studios in Lawndale, CA
RIFF Factory in Saint Paul, MN
A Private Practice Music in Chicago, IL
Diaz Reus Rolf & TARG LLP in New York, NY