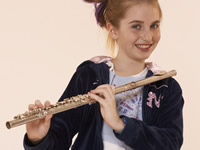 Musical Instrument Lessons at InstrumentLessons.org
Instrumet lessons can begin at absolutely any age, and you are never too old to pick up a new musical instrument, particularly if you know how to read music or have played an instrument before. Many people do not follow their ambition to learn to play an instrument because they do not think they have what it takes to learn how to play. Because you are never too old for instrument lessons, you can easily get started now and learn to play the instrument of your dreams. Younger students taking music lessons may be able to find the memory and dexterity easier, but you still have the advantage of time and dedication to take advantage of.

When it comes to instrument lessons, you can easily learn piano, guitar, woodwinds, violin, cello, drums and numerous other instruments as well. If you have an affinity for music and are interested in taking music lessons, it is never too late for you to get started. Music lessons are available from large schools and private instructors, so matter what you need, there are plenty of options for you to choose from.
Welcome New Companies:



Shin's Music Studio



Welcome to Shins Music Studio where we can help you learn the art of music through Instruments (Piano, Organ, Guitar, Vocal, and Drums). Students hav...



Colorado Springs, CO
Latest Reviews:



Drummer's Den in Scottsdale, AZ
from Bryan Hawkesworth
www.thedrummersden.com I'm the owerner of The Drummer's Den, where I've been providing fun and informative drum lessons, as well as quality brand nam...Details
From Our Blog:
Learn To Play The Flute
Many people want to pick up a new hobby, and playing a musical instrument may be just what you have in mind. When it comes to choosing a musical instrument, you may want to consider the flute. The flute is one of the most popular instruments to play. It has a nice romantic sound. It is also very lightweight and you can carry it around when you go. It is unlike many of the larger instruments... Continue Reading
Welcome new companies!
Royal Academy-Performing Arts in Worcester, MA
Imani Music Academy in Dothan, AL
South Shore Conservatory in Hingham, MA
Club Z In-Home Tutors in Naples, FL
Sweet Adeline Chorus in Binghamton, NY
Music Connection in Orland Park, IL
South Hill String Studio in Puyallup, WA
Bowling Piano Studios in Bremerton, WA
Music Factory in Lima, OH
Nevada School of the Arts in Las Vegas, NV
Moosic School in Houston, TX
Gymboree Play and Music in Redlands, CA
Settlement Music School - Germantown Branch in Philadelphia, PA
Talent Sprouts in Ventura, CA
Suzanne Michell's Music Studio in Little Rock, AR